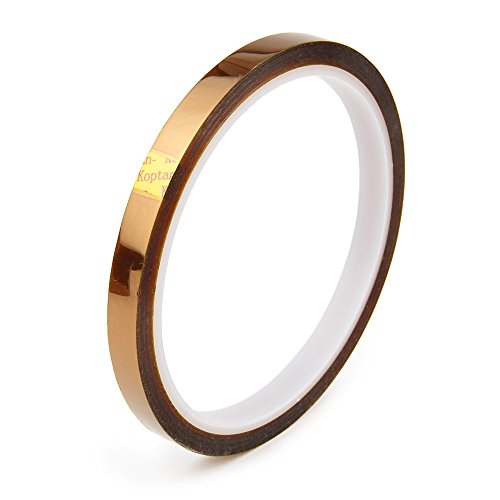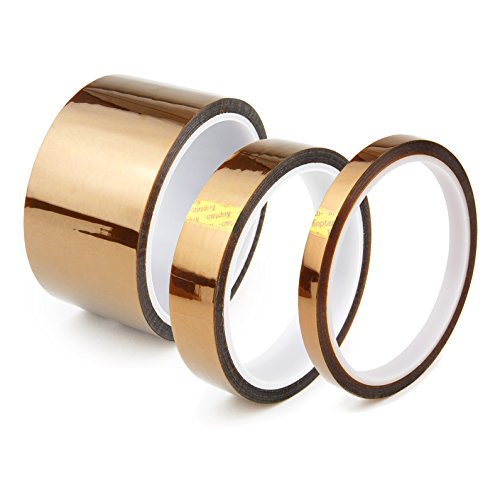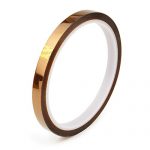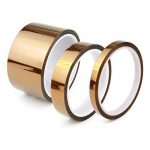 WyzWorks High Temperature Polyimide Tape – Heat Resistant Gold Kapton Tapes
$5.99 (as of October 8, 2017, 9:20 pm)
High temperature heat-resistant, will not burn or wrinkle
Clean removal, no residue
Stable Temperature Range: -269 to +400 °C
Description
Amazon Customer Reviews
Additional information
Reviews (0)
Description
Polyimide Tape is also known as
Kapton Tape. It is a heat resistant, high temperature masking tape that is ideal for wave soldering, insulating circuit boards, powder coating, widely used as the electronics industry in transformers, motors , coils, capacitors and variable frequency power supplies.. It has a high dielectric strength and is supplied with Silicone adhesive which does not leave any residue.
Kapton tape is particully useful for
3D printing applications. Kapton tape and ABS adhere to each other very well which has led to widespread use of Kapton as a build surface for 3D printers. Kapton is laid down on a flat surface and the ABS is extruded on to the Kapton surface. Since Kapton and ABS strongly adhere to each other the ABS will not detach from the build platform as the ABS cools and shrinks. This is a common cause of 3d print failures as well as warping in parts
Kapton tape is also commonly used to secure components such as thermocouples to the hot-end of 3D printer extruders. Care must be used, as insufficiently attached thermocouples can detach, leading to runaway overheating of the nozzle, and fires.
Length: 33 meters(100 feet)


Width: 8mm(5/16″) or 20mm(3/4″) or 50mm(1 15/16″)


Stable Temperature Range: -269 to +400 °C
High temperature heat-resistant, will not burn or wrinkle
Clean removal, no residue
Stable Temperature Range: -269 to +400 °C
Width: Your choice! 8mm, 20mm, or 50mm)
Length: 33mm(100ft)
SOAP Fault: (faultcode: aws:Client.RequestThrottled, faultstring: AWS Access Key ID: AKIAIPIWXOVXVHGU4IOA. You are submitting requests too quickly. Please retry your requests at a slower rate.)
SOAP Fault: (faultcode: aws:Client.RequestThrottled, faultstring: AWS Access Key ID: AKIAIPIWXOVXVHGU4IOA. You are submitting requests too quickly. Please retry your requests at a slower rate.)