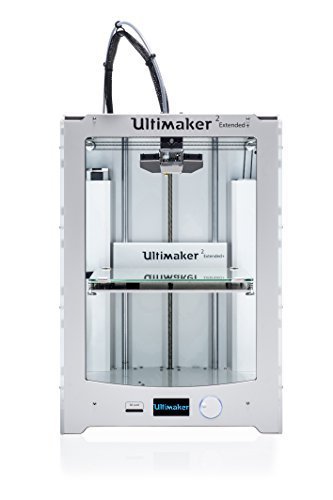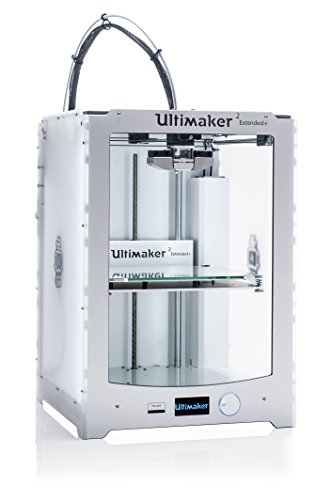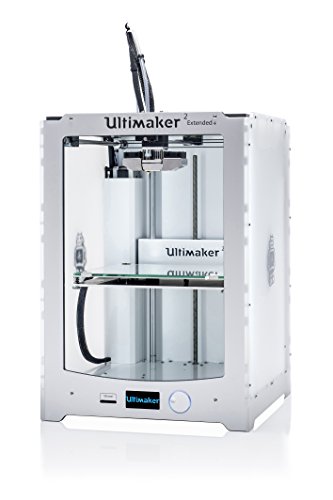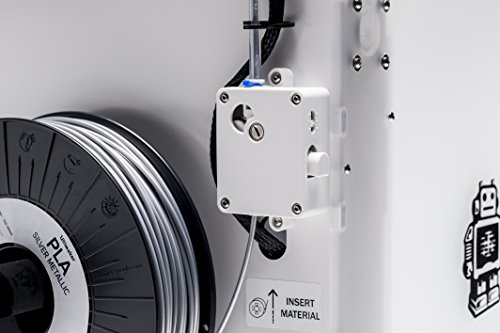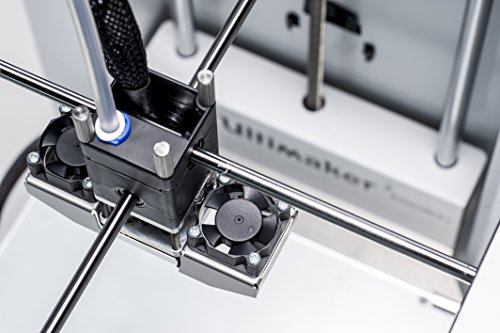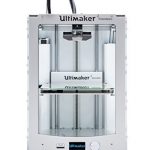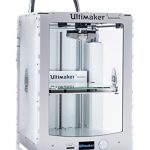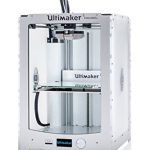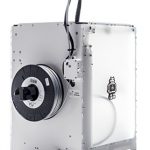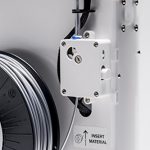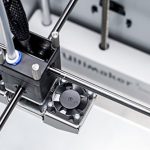 Ultimaker 2 Extended+ 3D Printer
$2,999.00 (as of October 8, 2017, 8:57 pm)
Updated 2016 model – multiple improvements made on the original Ultimaker 2 Extended
Easily switch between the included 0.25, 0.4, 0.6, and 0.8 mm nozzles for greater detail or faster print speed.
Premium materials used in construction. Heated bed smooths prints and allows for ABS printing.
Description
Amazon Customer Reviews
Reviews (0)
Description
The Ultimaker 2 Extended+ is easy and reliable, updated for the best experience in 3D printing. Featuring a swappable nozzle extruder capable of an amazing 20 micron layer resolution, 12.5 micron XY precision, and 5 micron Z precision, the Ultimaker 2 Extended+ is the best consumer 3D printer available today.
Physical
Included items:
-Spool holder
-Glue stick
-Power supply
-USB cable (for firmware only)
-Test print
-Hex wrenches
-Grease
Dimensions: 49.3 X 34.2 X 68.8 cm
Product Weight: 12kg
Shipping Weight: 19.5kg
Assembled: Yes
Operating Temperature: 15-32°C
Storage Temperature: 0-32°C
Connectivity: SD card slot, USB (firmware updates only)
Electrical
Power requirements: 24 V DC @ 9.2 AMPS
AC Input: 100-240V / ~4A / 50-60HZ / 221w max
Printing
Build Volume: 22.3 X 22.3 X 30.5 cm
Build Platform: Heated
Supported Filament: PLA, ABS, CPE
Max Layer Resolution: 20 microns
XY Positioning Precision: 12.5 microns
Z Positioning Precision: 5 microns
Travel Speed: 30 mm/s – 300 mm/s
Print Technology: FDM
Filament Diameter: 2.85 mm
Extruders: Single
Support / Warranty
Warranty: One-year manufacturer's warranty
Software
Supported OS: Windows XP+, Mac OS X 10.6+,Linux Ubuntu 12.10+
Supported File Types: STL, OBJ, DAE
Updated 2016 model – multiple improvements made on the original Ultimaker 2 Extended
Easily switch between the included 0.25, 0.4, 0.6, and 0.8 mm nozzles for greater detail or faster print speed.
Premium materials used in construction. Heated bed smooths prints and allows for ABS printing.
The innovative feeder allows you to easily swap filament and choose the correct pressure for your filament.
The new fancaps ensure the airflow is aimed perfectly below the nozzle and equally from both sides.
SOAP Fault: (faultcode: aws:Client.RequestThrottled, faultstring: AWS Access Key ID: AKIAIPIWXOVXVHGU4IOA. You are submitting requests too quickly. Please retry your requests at a slower rate.)
SOAP Fault: (faultcode: aws:Client.RequestThrottled, faultstring: AWS Access Key ID: AKIAIPIWXOVXVHGU4IOA. You are submitting requests too quickly. Please retry your requests at a slower rate.)