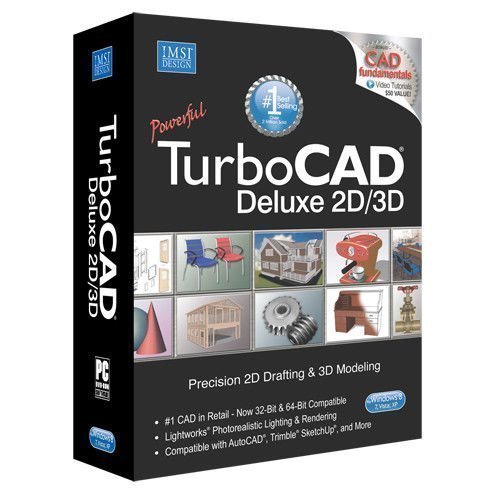 TurboCAD Deluxe 21 2D Design & 3D Modeling CAD Design software
$49.99 (as of October 8, 2017, 8:00 pm) & FREE Shipping. Details
Powerful Complete 2D Design & 3D Modeling CAD Software
Everything you need to create presentation-ready floorplans, models, illustrations, and more.
Packed with 2D drawing, modifying, and dimensioning tools, plus 3D modeling, photorealistic rendering, advanced lighting effects, camera views and more!
Description
Amazon Customer Reviews
Reviews (0)
Description
Powerful, Complete 2D/3D CAD Software
TurboCAD Deluxe is everything you need to create presentation-ready floorplans, models, illustrations, and more. Design and share your ideas with complete drafting, modeling, and photorealistic rendering at a great price
Key Features & Benefits:
* Complete 2D/3D design tools for drafting, modeling, modifying, dimensioning and annotation
* Easy to learn and use with set up wizards, context-sensitive help, snaps, alignment aids, and handle-based editing
* Productivity Features like a customizable UI, time saving wizards, a 64-Bit compatible version, XREF support, and more
* Architectural Tools like a house wizard, self-healing walls, parametric architectural objects, and more
* Mechanical Tools tailored to engineers like 2D/3D Boolean operations, revolve, extrude, sweeps, and chain polyline
* Materials, lighting, and photorealistic rendering to create powerful presentations
* Excellent File Sharing with new AutoCAD® (DWG/DXF) and SketchUp (SKP) 2013, STL for 3D Printing, & more!
USABILITY FEATURES
Complete Set of 2D/3D Drafting, Design, and Modeling Tools – TurboCAD employs a large selection of line, arc, curve, spline tools, and other expected tools, so that no matter the situation you've got access to the right tool for the job. When used with TurboCAD snaps, modification tools, and drawing aids you will be able to quickly draft and document your designs.
* Drawing Tools
* Editing/Modification Tools
* Dimension Tools
INTEROPERABILITY
Industry Standard Files Supported – TurboCAD Deluxe nearly 30 industry-standard formats making it easy to share your work or as a companion product.
Powerful Complete 2D Design & 3D Modeling CAD Software
Everything you need to create presentation-ready floorplans, models, illustrations, and more.
Packed with 2D drawing, modifying, and dimensioning tools, plus 3D modeling, photorealistic rendering, advanced lighting effects, camera views and more!
Supports the most complete set of industry-standard file formats available including AutoCAD® and TrimbleTM SketchUpTM, as well as .STL for 3D Printing.
Architectural and Mechanical Design Features
SOAP Fault: (faultcode: aws:Client.RequestThrottled, faultstring: AWS Access Key ID: AKIAIPIWXOVXVHGU4IOA. You are submitting requests too quickly. Please retry your requests at a slower rate.)
SOAP Fault: (faultcode: aws:Client.RequestThrottled, faultstring: AWS Access Key ID: AKIAIPIWXOVXVHGU4IOA. You are submitting requests too quickly. Please retry your requests at a slower rate.)