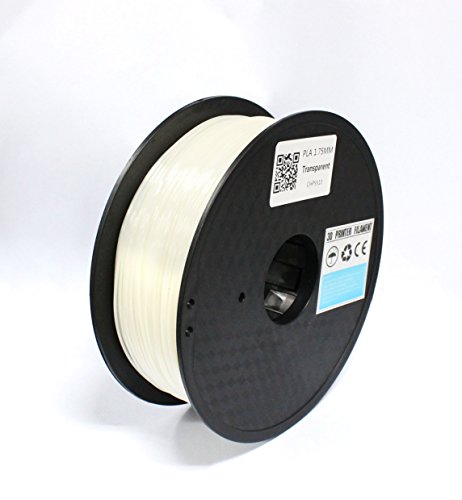 TRITECHNOX 1.75mm PLA 3D Printer Filament – 1kg Spool (2.2 lbs) – Dimensional Accuracy +/- 0.05mm (WHITE)
$29.99 (as of October 8, 2017, 8:06 pm) & FREE Shipping. Details
BEST FILAMENT : Tritechnox PLA is the best quality filament available in the market, designed and packed with state of the art technology gives you the opportunity to quantify or materialize your imagination by the 3D printing.
HASSLE FREE PRINTING : With the best quality filament it is assured that you will enjoy hassle free 3D printing, never gets stuck, no air bubbles. Makes your life EASY !
HIGH QUALITY SUPER ACCURACY : The filaments are universally designed and compatible with 3D Printers using 1.75mm diameter filament, with a dimensional accuracy of +/- 0.05mm.
Description
Amazon Customer Reviews
Reviews (0)
Description
TRITECHNOX 3D PRINTER PLA FILAMENT
PRODUCT DESCRIPTION
– PLA gives off a smell similar to a semi-sweet cooking oil. While it certainly won't bring back fond memories of home-cooked meals, it is considered by many an improvement over hot plastic.
– PLA display less warping. This is the reason why it is possible to print without a heated bed.
– PLA (Polylactic Acid) filament is made for 3D printers with degradable bio-plastic.
– Printed objects will generally have a glossier look.
– No bubble.
– Our PLA 3d printing filament is compatible with most commercially available non-cartridge based 3D printers.
– Backed by our 100% SATISFACTION GUARANTEE.
Quick start guide for PLA printing
The first layer is the most important part of any print. There are a few things you need to do to get the first layer to stick well.
– You need the print bed (or print surface) to be level.
– You need the extruder to be homed to the correct height from the bed.
– You need a good base material for your PLA to adhere to.
Storage
– Keep material in sealed bag until ready for use.
– Avoid Water. Keep in dry place.
– Keep away from heat.
– Recommended storage temperature: -20 to 50 'C
100% Money back guarantee, buy with confidence and if you don't like it get a replacement or a refund, NO questions asked !!
DON'T forget to CLICK the add to cart BUTTON NOW !!
BEST FILAMENT : Tritechnox PLA is the best quality filament available in the market, designed and packed with state of the art technology gives you the opportunity to quantify or materialize your imagination by the 3D printing.
HASSLE FREE PRINTING : With the best quality filament it is assured that you will enjoy hassle free 3D printing, never gets stuck, no air bubbles. Makes your life EASY !
HIGH QUALITY SUPER ACCURACY : The filaments are universally designed and compatible with 3D Printers using 1.75mm diameter filament, with a dimensional accuracy of +/- 0.05mm.
3D PRINTER COMPATIBILITY : The PLA filament is compatible with most common 3D printers such as MakerBot, Reprap, Afinia, UP, Mendel, flashforge, Solidoodle 2, Printrbot LC, MakerGear M2 and etc.
100% SATISFACTION GUARANTEE : 100% Money back guarantee, don't like it get a replacement or refund, NO questions asked!
SOAP Fault: (faultcode: aws:Client.RequestThrottled, faultstring: AWS Access Key ID: AKIAIPIWXOVXVHGU4IOA. You are submitting requests too quickly. Please retry your requests at a slower rate.)
SOAP Fault: (faultcode: aws:Client.RequestThrottled, faultstring: AWS Access Key ID: AKIAIPIWXOVXVHGU4IOA. You are submitting requests too quickly. Please retry your requests at a slower rate.)