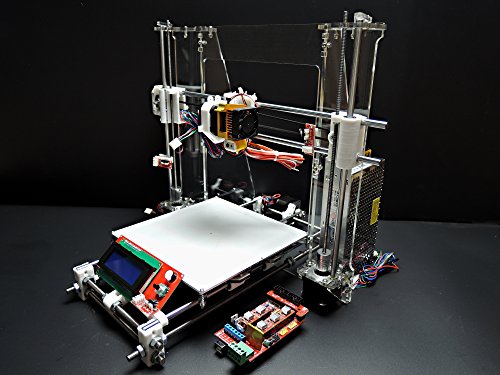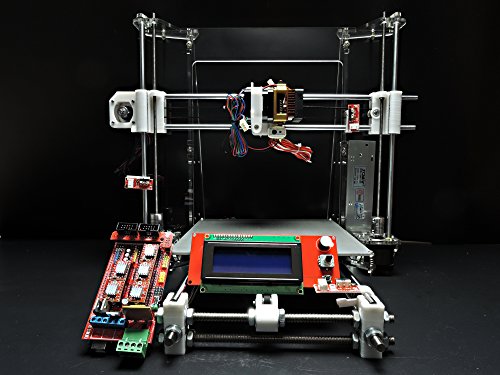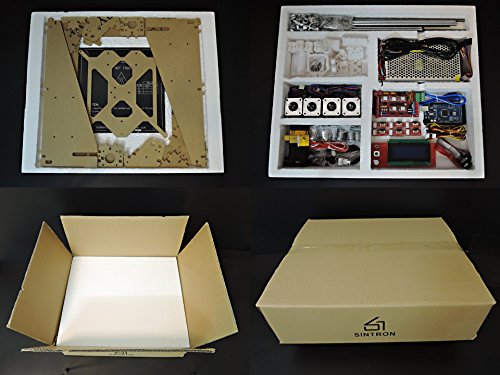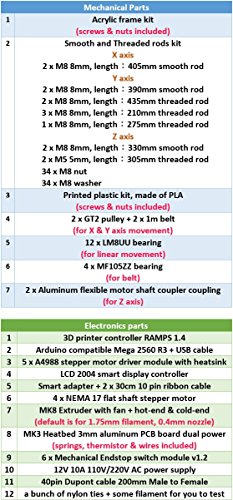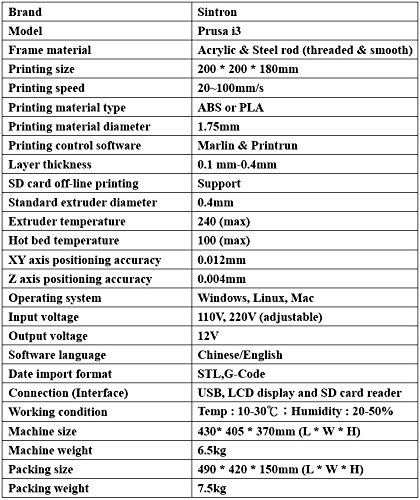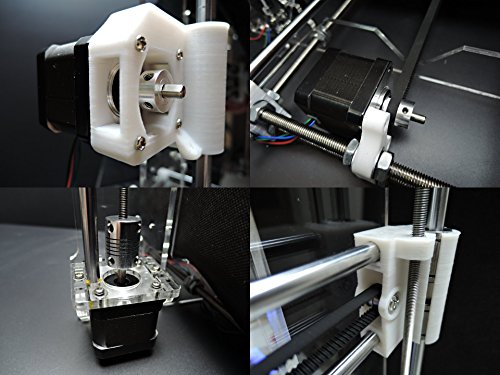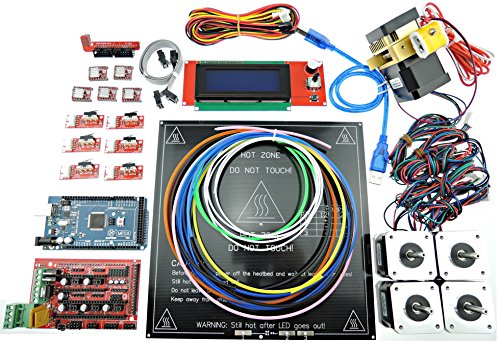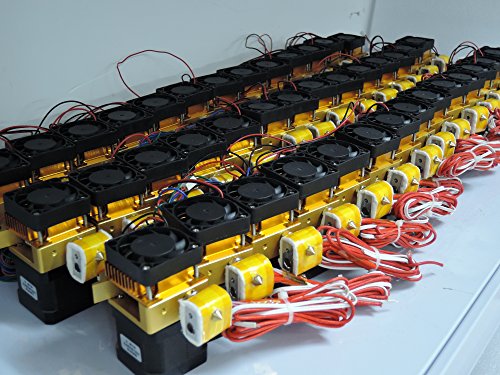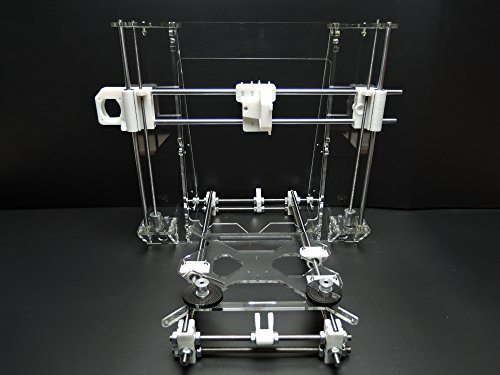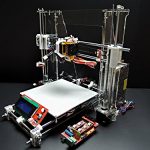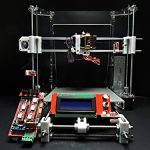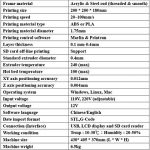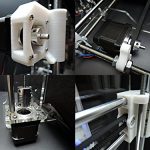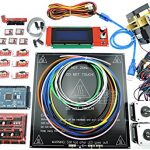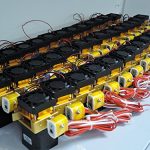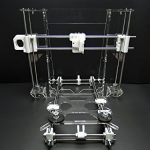 [Sintron] Ultimate 3D Printer Full Complete Kit for DIY Reprap Prusa i3 + RAMPS 1.4, Mega 2560, MK8 Extruder, MK3 Heatbed, Stepper Motor and LCD Controller
$349.95 (as of October 8, 2017, 9:46 pm)
(1) We don't adapt wade extruder, we upgrade the J-head to all metal MK8 extruder. If you use wade extruder etc, every time when you change the filament, you have to take them apart and calibrate it all again. it takes hours sometimes, so I would suggest you to use long distance extruder as below. it takes you only within 1 minute to change the filament.
(2) We use well-designed standard MK8 extruder, high quality stepper motor and direct drive extrusion wheel, more accurate, quick heating and fluent injection, we have made necessary design to prevent "jammed" problem. printing speed up to 100mm/s.
(3) We offer LCD 2004 controller with SD card design support totally off-line print, no computer needed while printing. then you don't have to spare one computer for your 3D printer use only. RepRap Prusa i3 3D printer with LCD screen, you can adjust the printing parameters via the LCD screen rotary knob, this would reduct your calibration time a lot !
Description
Amazon Customer Reviews
Reviews (0)
Description
The operating principle of 3D printer is to establish a 3D model by your computer, and use slicing software system to do the slicing work for the 3D model then save to the SD card for ready to print. Made of high quality acrylic material + Steel rod (threaded & smooth), This kit include all the parts you need for building Reprap prusa i3 3D printer. this 3D printer has a simple structure, light and portable, beautiful and trendy. Especially suitable for DIY amateur, artistic design, architectural design, education, 3D photo studio, can be used for printing different items like small components model, decoration, etc.
Below is the video about how it works everyday in our office, please click this link : https://www.youtube.com/v/dk9CACwla2s
The printed plastic part are made by these machines.
Actually we have own this products for over one year, but we just started to sell it now. because we hope to went through all the details, and make sure all the components we selected are really useful, so customer can save time on worrying if it's the hardware problem and focus on project only.
Therefore, if you meet any problems (I am sure you will meet dozens of problems and questions during the building process, and it's normal), you can always contact us for technical support, because almost all the problems you will meet, we already met before, you are not just buying this product, you also get our experienced support for you. building a 3D printer is not an easy job, so if there's some one you can ask, you will save a lot of time.
We have pre-installed the 3D printer firmware for you, so even you know nothing about firmware, you can still get it working. error range would be from 0.1~0.5mm (but in order to be more precise, some knowledge about the firmware is recommended)
Package list and Prusa i3 Specifications : please check the main picture for list.
(1) We don't adapt wade extruder, we upgrade the J-head to all metal MK8 extruder. If you use wade extruder etc, every time when you change the filament, you have to take them apart and calibrate it all again. it takes hours sometimes, so I would suggest you to use long distance extruder as below. it takes you only within 1 minute to change the filament.
(2) We use well-designed standard MK8 extruder, high quality stepper motor and direct drive extrusion wheel, more accurate, quick heating and fluent injection, we have made necessary design to prevent "jammed" problem. printing speed up to 100mm/s.
(3) We offer LCD 2004 controller with SD card design support totally off-line print, no computer needed while printing. then you don't have to spare one computer for your 3D printer use only. RepRap Prusa i3 3D printer with LCD screen, you can adjust the printing parameters via the LCD screen rotary knob, this would reduct your calibration time a lot !
(4) We use the latest MK3 Heatbed 3mm Aluminium PCB Board, dual power supply, operate at 12V or 24V. Heated bed keeps a certain temperature to prevent warping, and cooling fan speeds up solidification of the extruded filament. XYZ axis position accurately, ensures the printing edge more neatly.
(5) We have pre-install the 3D printer firmware for you. so even you know nothing about firmware, you can still get it working. We don't just sell them, we also provide good after-sales service, so welcome to discuss with us, we will try to do technical support as much as we can. please feel free to send us an email, we will also help you to complete the project !
SOAP Fault: (faultcode: aws:Client.RequestThrottled, faultstring: AWS Access Key ID: AKIAIPIWXOVXVHGU4IOA. You are submitting requests too quickly. Please retry your requests at a slower rate.)
SOAP Fault: (faultcode: aws:Client.RequestThrottled, faultstring: AWS Access Key ID: AKIAIPIWXOVXVHGU4IOA. You are submitting requests too quickly. Please retry your requests at a slower rate.)