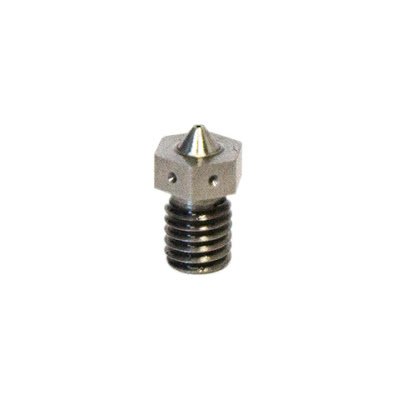 MatterHackers CleanTip Stainless Steel Nozzle – 1.75mm x 0.30mm for E3D V6, ROBO 3D
$30.00 (as of October 8, 2017, 8:24 pm)
MatterHackers CleanTip Nozzles are coated with ultra-low friction Tungsten Disulfide for less jams, easier cleaning, and printing with metal powder and carbon fiber filaments.
This nozzle is an upgrade for the E3D v6 hot end, the Hexagon hot end used on machines like the Lulzbot Taz 5 and Mini, and any other hot end nozzle with matching thread.
This nozzle has M7 x 1mm thread.
Description
MatterHackers CleanTip Nozzles are coated with ultra-low friction Tungsten Disulfide for less jams, easier cleaning, and printing with metal powder and carbon fiber filaments. Note: Compatible with E3D v6 and Hexagon hot ends such as the Robo R1, LulzBot Taz 5 and Mini. Not compatible with all hot ends. Are you tired of your nozzles getting dirty and covered in filament? Our new CleanTip Nozzles are the solution. Coated with ultra-low friction Tungsten Disulfide (WS2), no filament sticks to our stainless steel nozzles. Tungsten Disulfide is a really cool material. It has even less friction than PTFE and is heat resistant up to 650°C. The ultra low friction also helps prevent jams, and because filament doesn't stick to the nozzle, we've noticed less stringing and cleaner prints overall! When your hot end is up to temperature, it wipes clean with virtually anything. No more baked on filament mess or difficult nozzle swaps due to crusty old filament. Note: This nozzle has M7 x 1mm thread. It is an upgrade for the E3D v6 hot end, the Hexagon hot end used on machines like the Lulzbot Taz 5 and Mini, and any other hot end nozzle with matching thread.
MatterHackers CleanTip Nozzles are coated with ultra-low friction Tungsten Disulfide for less jams, easier cleaning, and printing with metal powder and carbon fiber filaments.
This nozzle is an upgrade for the E3D v6 hot end, the Hexagon hot end used on machines like the Lulzbot Taz 5 and Mini, and any other hot end nozzle with matching thread.
This nozzle has M7 x 1mm thread.
1 nozzle per pack
Made in the USA
SOAP Fault: (faultcode: HTTP, faultstring: Service Unavailable)
SOAP Fault: (faultcode: HTTP, faultstring: Service Unavailable)