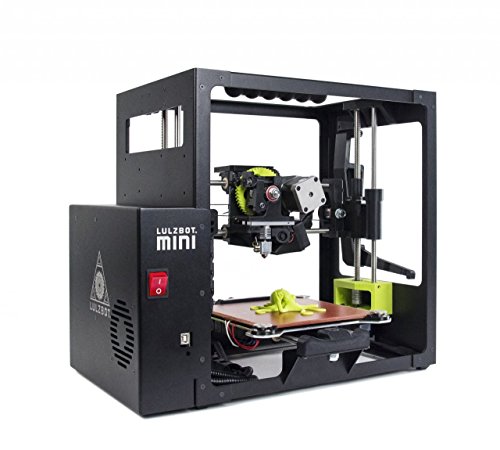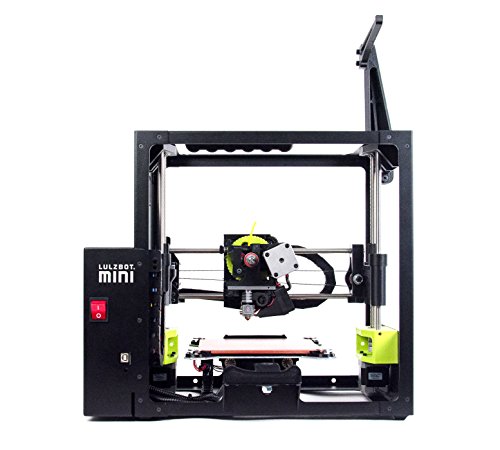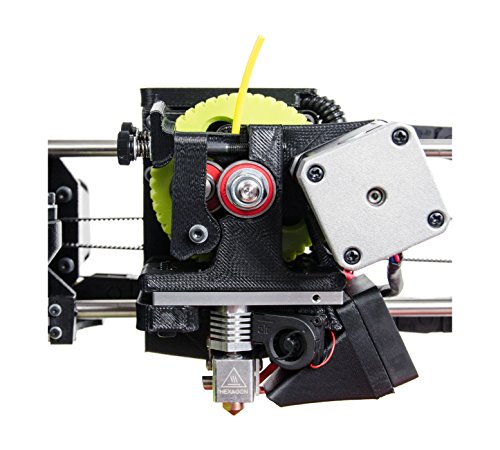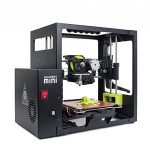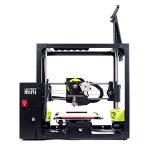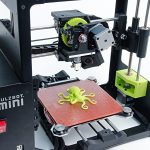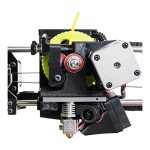 LulzBot Mini Desktop 3D Printer
$1,250.00 (as of October 8, 2017, 7:56 pm) & FREE Shipping. Details
Enjoy awesome ease-of-use features including auto-bed leveling, auto-nozzle cleaning, an easy carry handle, new Cura software, and a low maintenance PEI print surface
Print Volume: 6in x 6in x 6.2in (152mm x 152mm x 158mm). Layer resolution as fine as 50 micron and as coarse as 500 micron, depending on part geometry and speed/finish requirements
The LulzBot Hexagon all metal hot end can heat to 300°C (572°F) and the print bed can heat to 120°C (248°F), both software configurable for advanced users. Material versatility is built-in
Description
Amazon Customer Reviews
Reviews (0)
Description
The LulzBot Mini is a high performance desktop 3D printer engineered to be easy to use. Even better, the LulzBot Mini is Open Source Hardware, certified by the Free Software Foundation for respecting your freedom. Critics are raving too: PC Magazine gave the Mini their first ever "Editor's Choice" award for mid-range 3D printers. Computer World exclaimed, "Any serious maker should consider this machine because of its flexibility, accuracy and speed."
All LulzBot products use Free Software and are Open Source Hardware. This means your LulzBot Mini uses proven technology developed collaboratively. It also means you are free to adopt the latest and greatest technology being developed across the 3D printing industry, from new software packages to experimental materials.
The Mini ships fully assembled and calibrated so you will be printing within minutes of opening the box. In the box: LulzBot Mini Desktop 3D Printer, USB and power cables, USB flash drive with software and source files, Quick Start Guide, Reference Poster, 5-Piece toolkit, 5 spare nozzle wiping pads, an octopus 3D printed on your printer, and a sample piece of 3mm HIPS filament.
Please don't forget to buy reels of filament with your new printer! The Mini ships with just enough filament to run one small test print.
Enjoy awesome ease-of-use features including auto-bed leveling, auto-nozzle cleaning, an easy carry handle, new Cura software, and a low maintenance PEI print surface
Print Volume: 6in x 6in x 6.2in (152mm x 152mm x 158mm). Layer resolution as fine as 50 micron and as coarse as 500 micron, depending on part geometry and speed/finish requirements
The LulzBot Hexagon all metal hot end can heat to 300°C (572°F) and the print bed can heat to 120°C (248°F), both software configurable for advanced users. Material versatility is built-in
Freedom to use any number of 3D printing software programs, Cura LulzBot Edition comes standard. Other compatible software includes OctoPrint, BotQueue, Slic3r, Printrun, MatterControl, and more
SOAP Fault: (faultcode: aws:Client.RequestThrottled, faultstring: AWS Access Key ID: AKIAIPIWXOVXVHGU4IOA. You are submitting requests too quickly. Please retry your requests at a slower rate.)
SOAP Fault: (faultcode: aws:Client.RequestThrottled, faultstring: AWS Access Key ID: AKIAIPIWXOVXVHGU4IOA. You are submitting requests too quickly. Please retry your requests at a slower rate.)