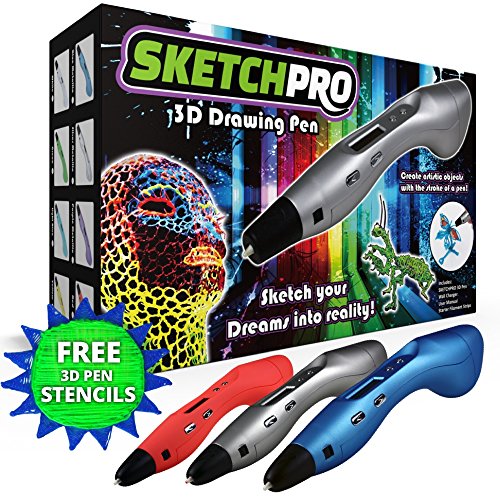 LATEST EDITION 3D Pen Kit – 3D Printing Pen, Kid Gift w/ LED Screen – Art Toy w/ FREE Art Stencils for 3D Drawing – Arts and Crafts
$124.95 (as of June 23, 2017, 9:45 pm)
LARGE LED SCREEN – Many earlier edition 3D Pens lacked control detail, making consistent drawing very difficult and frustrating. The SketchPro 3D Printing Pen is the LATEST EDITION of 3D pen and is packed with all the latest features, including a large LED screen which gives the user complete control over all details of their drawing experience from temperature and feed settings to material type options and even a quick-cleaning function which makes switching between filaments a breeze!
FREE E-BOOK INCLUDED WITH EVERY PURCHASE – 3D printing takes drawing to a whole new level. Literally. Because of that, SketchPro 3D Printer Pen purchase includes a FREE E-book featuring over 100 unique stencils ranging from Beginner to Advanced to Professional (and beyond)! Use this small gift as a means of spring-boarding into as-of-yet unexplored regions of your imagination. Safe to use for most ages, you won't be disappointed with the SketchPro 3D Pen Kit, available in several color options.
SAFE, EASY TO USE, AND PROFESSIONAL – We consider SAFETY a primary concern, especially where children are involved. That's why every SketchPro 3D Printing Pen is packed with the latest technology for handheld printing safety including features like our automatic shut-off and quick-cleaning function. Ergonomic, safe, and comfortable for all hands, the SketchPro 3D Scribble Art Pen is sure to impress and inspire, though not nearly as much as the ART you create with it!
Description
Amazon Customer Reviews
Additional information
Reviews (0)
Description
The SketchPro 3D Printing Pen Kit features the LATEST TECHNOLOGY available on the market today along with EVERYTHING you need to get started with creating inspiring three-dimensional artwork of your own. Anything you can dream, you can draw, thanks to the NEW SketchPro 3D Art Pen.
AND REMEMBER: Every SketchPro 3D Pen includes a FREE Stencil E-Book with over 100 drawing stencils, emailed directly to you after purchase!
FEATURES OF THE SKETCHPRO 3D PRINTER PEN:
– Large LED screen
– Quick heat up time (just over 1 min.)
– Changing filaments takes just seconds
– Lightweight design for comfortable use (only 50g)
– Single press buttons for continuous flow
– Digital speed and temperature control for more stable and accurate feeding
– Auto standby mode after 90 seconds of idling
– Ergonomic pen body suits hands comfortably
HOW TO USE THE 3D DRAWING PEN:
1. Connect the pen to the power supply.
2. Load the filament through the feeding pore in the back of the pen.
3. Press and hold the discharge button until the filament comes out from the nozzle.
4. Adjust the temperature and speed settings to suit your drawing preference.
5. Draw!
– As you draw, the plastic will feed hot and pliable through the nozzle, then cool and solidify, holding a solid 3D shape.
WHAT'S IN THE BOX?
– Pen
– Adapter
– Power Chord
– Filament Sampler
– User Manual
NOTE: Please READ THE ENTIRE USER MANUAL before operating the 3D Printing Pen. Results will vary based on skill level and imagination.
IMPORTANT WARNING: When in use and between uses the tip can become very hot. This can cause severe burns. Keep away from water. Not recommended for use by children under the age of 12.
LARGE LED SCREEN – Many earlier edition 3D Pens lacked control detail, making consistent drawing very difficult and frustrating. The SketchPro 3D Printing Pen is the LATEST EDITION of 3D pen and is packed with all the latest features, including a large LED screen which gives the user complete control over all details of their drawing experience from temperature and feed settings to material type options and even a quick-cleaning function which makes switching between filaments a breeze!
FREE E-BOOK INCLUDED WITH EVERY PURCHASE – 3D printing takes drawing to a whole new level. Literally. Because of that, SketchPro 3D Printer Pen purchase includes a FREE E-book featuring over 100 unique stencils ranging from Beginner to Advanced to Professional (and beyond)! Use this small gift as a means of spring-boarding into as-of-yet unexplored regions of your imagination. Safe to use for most ages, you won't be disappointed with the SketchPro 3D Pen Kit, available in several color options.
SAFE, EASY TO USE, AND PROFESSIONAL – We consider SAFETY a primary concern, especially where children are involved. That's why every SketchPro 3D Printing Pen is packed with the latest technology for handheld printing safety including features like our automatic shut-off and quick-cleaning function. Ergonomic, safe, and comfortable for all hands, the SketchPro 3D Scribble Art Pen is sure to impress and inspire, though not nearly as much as the ART you create with it!
RISK-FREE PURCHASING & UNPARALLELED SUPPORT – Buy with confidence! Your SketchPro 3d Printer Pen features a No-Questions-Asked, 30-DAY, Money-Back Guarantee. If you don't absolutely LOVE your 3D Art Pen within the first 30 days, we'll take it back, no questions asked! Not only that, but every 3D Pen includes a 9-page User Manual and UNPARALLELED CUSTOMER SUPPORT. Simply click CONTACT SELLER and we'll be happy to address any questions you may have!
PERFECT FOR KIDS & ADULTS – The SketchPro 3D Printing Pen has been brilliantly designed to call out the artist in all of us. Whether you're a young child or merely young at heart, the SketchPro 3D Pen is packed with features that you will enjoy and learn to depend on such as a large LED screen, temperature and speed readings, quick-cleaning function, and adjustment flexibility. Since SAFETY is a key point of the SketchPro family model, your 3D drawing pen makes a great tool for children as well!
SOAP Fault: (faultcode: aws:Client.InvalidClientTokenId, faultstring: The AWS Access Key Id you provided does not exist in our records.)
SOAP Fault: (faultcode: aws:Client.InvalidClientTokenId, faultstring: The AWS Access Key Id you provided does not exist in our records.)