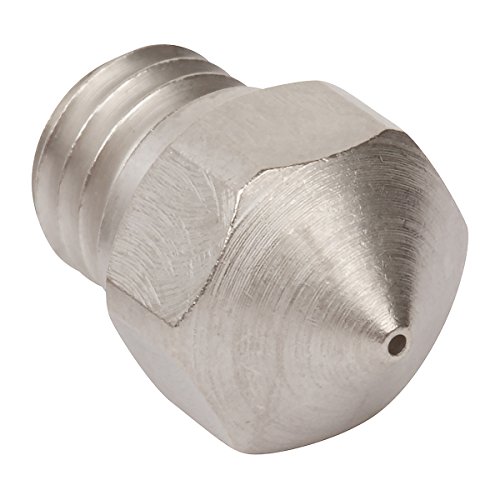 High Lubricity Wear Resistant Nozzle Upgrade MK10 0.4 mm (For FlashForge, Wanhao D4 and I3, Dremel)
$15.00 (as of October 8, 2017, 8:14 pm)
Compatible replacements for use on MK10 type hot-ends with a M7-threaded heater block (most FlashForge Creator, WanHao Duplicator, and other similar "Replicator clones" with PTFE heat break tube; FlashForge Dreamer and Dremel Idea Builder).
Hard coating improves service life and reduces down time
Standard 0.4 mm nozzle hole diameter
Description
Amazon Customer Reviews
Reviews (0)
Description
MK10 VERSION FOR FLASHFORGE (Creator, Creator Pro and Creator X), WANHAO (D4 and I3), DREMEL 3D Idea Builder.
These premium nozzles offer low friction and improved hardness to improve reliability and reduce down-time when printing with highly-abrasive filaments.
Starting with precision-turned 360 Brass alloy bases machined on a Swiss-style lathe, these upgraded nozzles are hard-coated with a specially formulated electroless nickel plating composite process.
This coating forms a very hard and abrasion resistant surface with high lubricity (very low friction), improves plastic flow, and reduces the likelihood of clogging.
Unlike solid stainless steel nozzles, these coated nozzles retain most of the excellent thermal properties that come from using brass. We highly-recommend these nozzles when printing with "filled" filament which are often abrasive (ones that are filled with metal, carbon-fiber, or glow-in-the-dark aluminate compounds) or when printing with "fiber filled" filament that is more prone to clogging (filled with wood-fiber, PVA).
Compatible with the Wanhao D4 and I3 models.
Compatible with the FlashForge Creator Pro, Creator X, and later-model Creator (wooden) with MK10 nozzles
Compatible with the DREMEL 3D Idea Builder
If you are unsure if this nozzle will fit on your 3D printer take a very close look at the visible part of your nozzle on your printer and compare it to our product photo.
We are very happy to answer any questions you may if you are not sure if our MK10 nozzles will work with your 3D printer.
Compatible replacements for use on MK10 type hot-ends with a M7-threaded heater block (most FlashForge Creator, WanHao Duplicator, and other similar "Replicator clones" with PTFE heat break tube; FlashForge Dreamer and Dremel Idea Builder).
Hard coating improves service life and reduces down time
Standard 0.4 mm nozzle hole diameter
Highly recommended for use with abrasive filaments (metal filled, glow-in-the-dark, carbon-fiber filled)
Also recommended for use with clog-prone filaments (fiber filled, PVA)
SOAP Fault: (faultcode: HTTP, faultstring: Service Unavailable)
SOAP Fault: (faultcode: HTTP, faultstring: Service Unavailable)