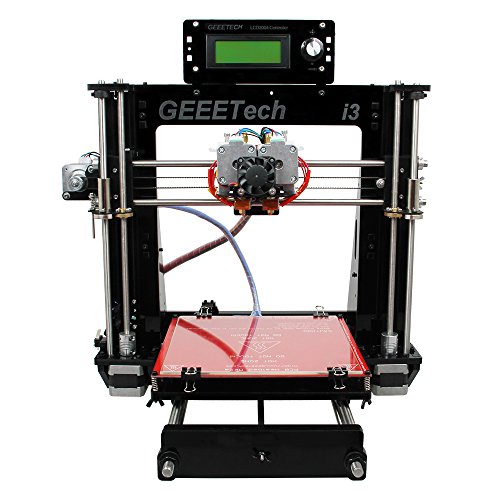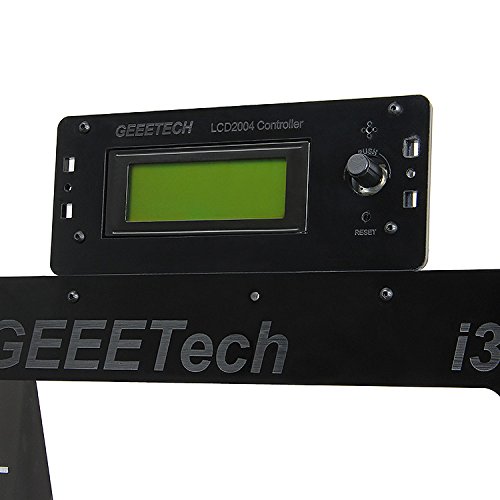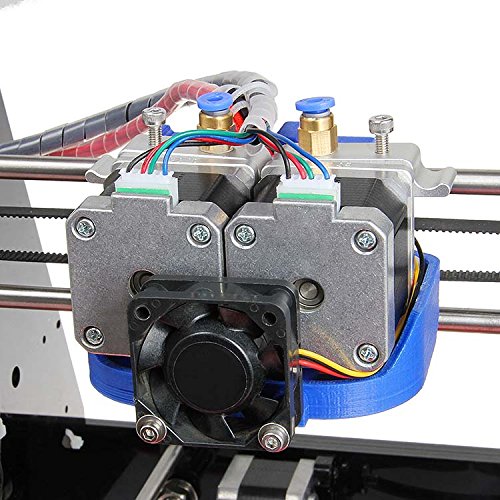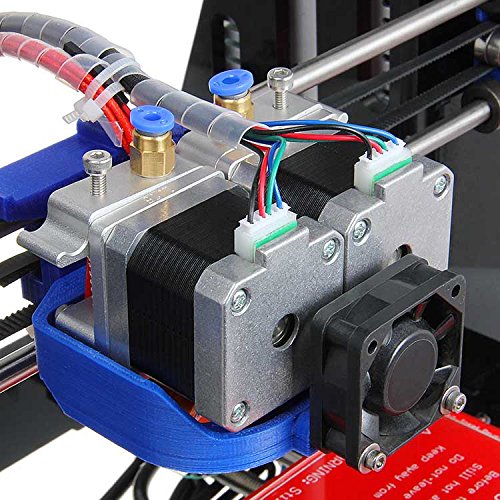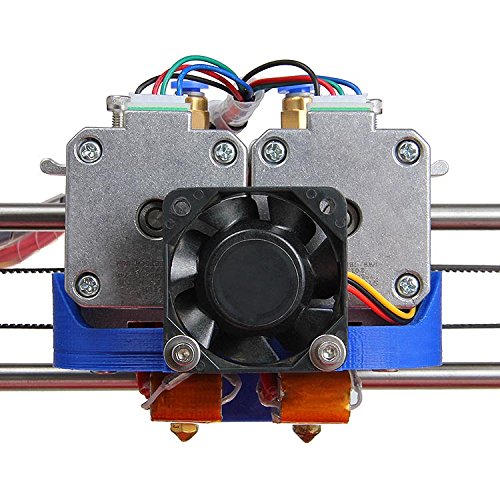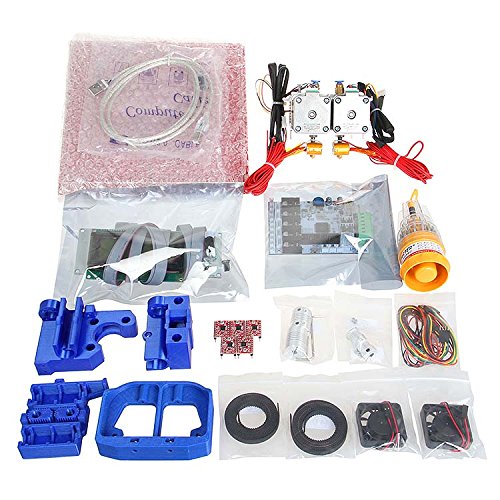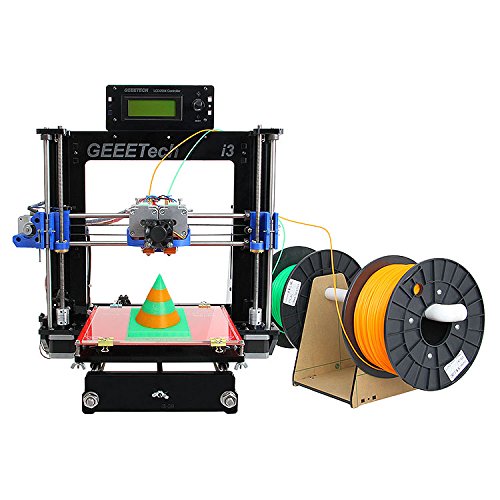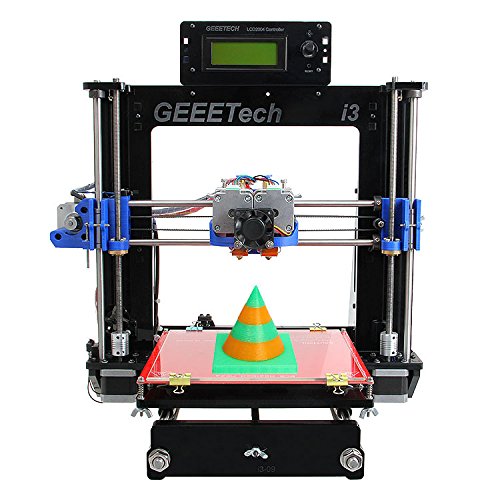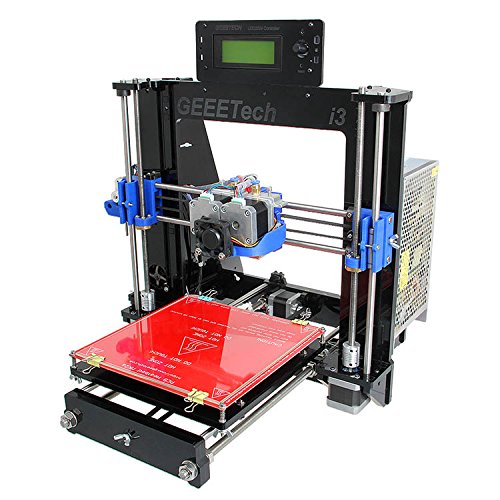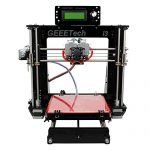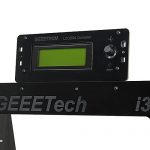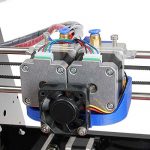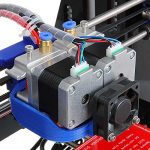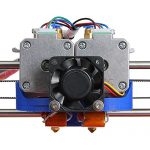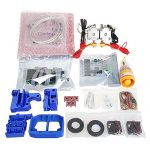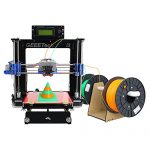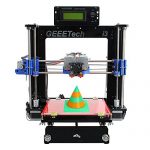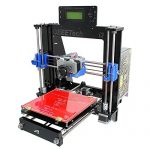 Geeetech Latest Acrylic I3 Pro C Dual Extruder 3D Printer Support 5 Materials +1KG Free PLA Filament
$432.00 (as of October 8, 2017, 8:02 pm)
1. The Geeetech i3 pro C is a dual extruder 3D printer with laser-cut acrylic frame. To maintain the garage-built feel and the handmade charms, I3 pro C is also a build-it-yourself kit,
2. This 3D printer uses plastic build materials like ABS and PLA. The Geeetech i3 pro C is fast, easy to use, less costly, and great for builds that don't require super high precision. it offers a layer height resolution of 0.1 mm – 0.3 mm, a positioning precision of 0.1-0.3mm on Z axis, and a maximum build envelope is 200 x200x180mm. Upgrading a Prusa i3 use two colors or materials always seemed complicated, but we make it so simple thanks to our optimized design of both hardware and software.
3. Now with the dual-extruder, you can print a single two-color object, or you can print two objects in one print job, each made from a different color. You can also print one single-color object, as with other single-extruder 3D printers. Or you can use one extruder for infill or support. The 2 extruder motor pushes filament through 2 head separately, so mixing colors printing is not applicable for the moment.
Description
Amazon Customer Reviews
Reviews (0)
Description
Printing specifications:
Print technology: Fused Filament Fabrication (FFF).
Build volume: 200 x200x180mm
Layer resolution: 0.1-0.3mm
Positioning Precision: 0.1-0.3mm
Filament diameter: 1.75mm
Nozzle diameter: 0.3mm
Extruder: 2
Filament type: ABS/ PLA
Software:
Operating system: Windows/Mac/Linux
Control software: Repetier-Host, Printrun
File format: .STL, G-code
Temperature:
Max heated bed temperature: about 110°C
Max extruder temperature: about 240°C
Electrical:
Power supply: Input: 115V/1.5A or 230V/0.75A
Output:DC12V/0-15A
Connectivity: USB, SD card (support off-line printing)
Mechanical:
Body: Acrylic plate of 8 mm thickness (black/ transparent)
Build Platform: Borosilicate glass + MK2A heatbed
XYZ Rods: Wear-resistant, stainless steel
Stepper Motors: 1.8° step angle with 1/16 micro-stepping
Physical Dimensions & Weight
Dimensions: 45 x 44 x 44 cm
Shipping box: 52 x 42 x 23 cm
Net weight: 9 kg
Shipping weight: 12KG
Content:
1 x geeetech I3 pro C DIY kit
1 x PLA (free add-on)
1 X hand tool (free add-on)
1. The Geeetech i3 pro C is a dual extruder 3D printer with laser-cut acrylic frame. To maintain the garage-built feel and the handmade charms, I3 pro C is also a build-it-yourself kit,
2. This 3D printer uses plastic build materials like ABS and PLA. The Geeetech i3 pro C is fast, easy to use, less costly, and great for builds that don't require super high precision. it offers a layer height resolution of 0.1 mm – 0.3 mm, a positioning precision of 0.1-0.3mm on Z axis, and a maximum build envelope is 200 x200x180mm. Upgrading a Prusa i3 use two colors or materials always seemed complicated, but we make it so simple thanks to our optimized design of both hardware and software.
3. Now with the dual-extruder, you can print a single two-color object, or you can print two objects in one print job, each made from a different color. You can also print one single-color object, as with other single-extruder 3D printers. Or you can use one extruder for infill or support. The 2 extruder motor pushes filament through 2 head separately, so mixing colors printing is not applicable for the moment.
4. An onboard control panel is another useful feature of the Geeetech i3 pro c. It's via this panel that you'll launch the initial printer setup and build platform calibration. It displays the temperature of the extruder heads and the build platform as well as the progress of a print job.
5. You can also use the control panel to print directly from the printer's SD card slot. You will need a computer to load design files directly onto the SD card, but once those files are on there, you can print from with no PC attached.
SOAP Fault: (faultcode: aws:Client.RequestThrottled, faultstring: AWS Access Key ID: AKIAIPIWXOVXVHGU4IOA. You are submitting requests too quickly. Please retry your requests at a slower rate.)
SOAP Fault: (faultcode: aws:Client.RequestThrottled, faultstring: AWS Access Key ID: AKIAIPIWXOVXVHGU4IOA. You are submitting requests too quickly. Please retry your requests at a slower rate.)