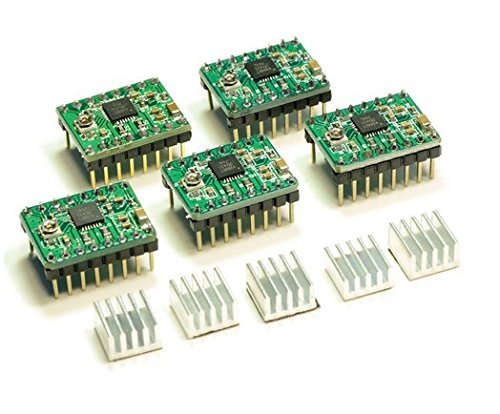 DIAOSnx Stepper Motor Driver Module come with Heat Sink 5Pcs for 3D Printer
$16.61 (as of October 6, 2017, 7:48 pm)
A4988 driver board widely used in 3D printers and small CNC machines
Ideal fit for applications where a complex microprocessor is unavailable or is overburdened
Includes a fixed off-time current regulator, the regulator in slow or mixed decay modes
Description
Additional information
Reviews (0)
Description
* A4988 is a complete microstepping motor driver with built-in translator for easy operation, and widely used in 3D printers and small CNC machines.
* This stepper motor driver lets you to operate bipolar stepper motors in full, 1/2, 1/4, 1/8 and 1/16 modes, with an output drive capacity of up to 35 V and ?? 2 A.
* A4988 converter is the key to the easy implementation. Simply inputting one pulse on the STEP input drives the motor one microstep.
* There are no phase sequence tables, high frequency control lines, or complex interfaces to program.
Specification:
* Automatic current decay mode detection / selection
* Mixed with slow current decay modes
* Low RDS (ON) outputs
* Internal UVLO
* Synchronous rectification for low power dissipation
* Crossover-current protection
* 3.3 and 5 V compatible logic supply
* Thermal shutdown circuitry
* Ground fault protection
* Load short-circuit protection
Package contents:
– 5 x StepStick A4988 Stepper Driver Module
– 5 x Heatsinks with sticky base.
A4988 driver board widely used in 3D printers and small CNC machines
Ideal fit for applications where a complex microprocessor is unavailable or is overburdened
Includes a fixed off-time current regulator, the regulator in slow or mixed decay modes
Five different step resolutions: full, 1/2, 1/4, 1/8 and 1/16
Simple step and direction control interface
SOAP Fault: (faultcode: HTTP, faultstring: Service Unavailable)
SOAP Fault: (faultcode: HTTP, faultstring: Service Unavailable)