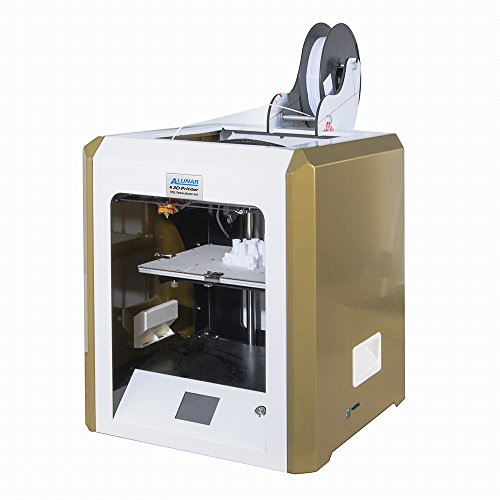 Alunar Desktop 3D Printer Fully Assembled Metal Frame Structure High precision Auto-Leveling FDM 3d printer for Education/Industrial,Works with ABS and PLA,Support STL, G-code, OBJ,Thinj Printing Machine R200
$850.00 (as of October 9, 2017, 12:01 am)
Special Patented Heated bed: The special heated build plate no need to preheat.Auto-Leveling .Auto Uninstall and install filament function.When you choose to change filament,the 3D printer will auto uninstall and install the filament
Multi-filament supported: Wide range of extruder temperatures allow this 3D printer to work with many type of filament, from basic filaments, such as ABS and PLA
Full Assembled : Unlike most other low-cost 3D printers, this printer ships fully assembled and has already been calibrated at the factory.
Description
Why Alunar 3D printing
Expand or discover a new hobby
3D printing opens up a new world of creative possibility and self-expression.
With 3D printing, if you can dream it, you can make it.
Personalize and customize items
3D printing gives you the ability to design something unique through endless personalization and customization opportunities.
Learn something new
3D printing is an exciting technology that fosters an entirely new learning experience that encourages experimentation,
critical thinking and problem solving to turn your ideas into tangible objects.
Build on
3D printing allows you to print individual pieces, components for bigger projects or even complex,moving objects.
Expand your creation by using the Alunar 3D Printer with other tools to create multi-material projects.
Structure:All metal framework material
Print nozzle number:1
Molding technology:FDM
Print size:220*220*220 mm (8.9 * 8.9 *8.9 inches)
Support off-line print: SD card
Is there a display:Full Color touch screen
XY axis positioning accuracy: 2.5 microns
Z axis positioning accuracy:11 microns
Print speed:200-500mm/s
Standard extrusion head specification:0.4mm
Extrusion head operating temperature:180 – 235 degree Celsius
Heating plate temperature:Not applicable,Specail hotbed ,no need preheat
Printing materials:PLA ABS (And other material)
Printing materials diameter:1.75mm
Operating system:XP, Win7,Mac OS , Linux
Recommended print software: Repetier-Host
Power supply: maximum power consumption:
Input:AC 110V/ 220V 50/60Hz 350w
Working environment:Temp: 10-40 degree Celsius Humidity 20-50%
Machine size: 380*390*420 mm
Machine weight:N.W: 18 kg G.W 24 kg
Special Patented Heated bed: The special heated build plate no need to preheat.Auto-Leveling .Auto Uninstall and install filament function.When you choose to change filament,the 3D printer will auto uninstall and install the filament
Multi-filament supported: Wide range of extruder temperatures allow this 3D printer to work with many type of filament, from basic filaments, such as ABS and PLA
Full Assembled : Unlike most other low-cost 3D printers, this printer ships fully assembled and has already been calibrated at the factory.
Full color touch screen for optimal object preview .Easy to use software for simple customization of 3D models.
Large build platform for bigger projects; Maximum build volume:8.9 * 8.9 *8.9 inches
SOAP Fault: (faultcode: HTTP, faultstring: Service Unavailable)
SOAP Fault: (faultcode: HTTP, faultstring: Service Unavailable)