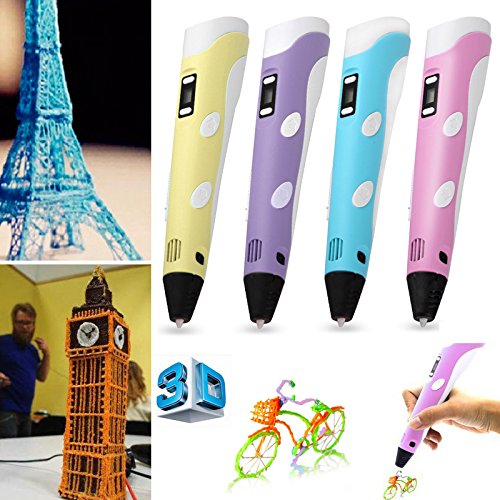 3D Arts & Crafts Drawing 3D Printing Printer Pen With LCD Screen + 4 Colors Filament + Power Adapter
$16.99 (as of October 8, 2017, 10:02 pm)
Lightweight design and easier speed control, perfect for children, designer, artist and hobbyist.
Electric heating nozzle integrated and compact design convenient for maintenance and replacement.
Fast cool technology, safe and accurate. Good plug design for heater and nozzle.
Description
Amazon Customer Reviews
Additional information
Reviews (0)
Description
3D Drawing Pen II With LCD Screen
Parameter Voltage: input 110V-220V output: 12V 3A Nozzle Caliber:0.4mm
Based on the excellent feedback of first generation of 3D printer pen(drawing pen) , we keep on improving our product, now the 3D printer pen(drawing pen) II already on the market.
Compare with I, the 3D printer pen II can display the filament you are using and the working temperature, this make your drawing more intuitive and controllable.
The 3D drawing pen II compatible with ABS and PLA. The user can switch filament model easily by the button around the LED screen and also can adjust temperature by the button.
Feature:
1. Light: whole pen very light even use after long time won't feel tired
2. Slim: Grab part very slim to hold.
3. Step-less speed control
4. Plug design of the heater and nozzle
5. Visible temperature adjust
6. Intelligent standby
7. compatible both ABS and PLA
Package list:
1. 3D drawing pen II*1
2. 12V/3A Power adapter*1
3. 4 colors filament: Black+White+Red+Blue
4. User manual*1
Warning!!!!
1. This device is suitable for children over 8 years old and adult use; Children should use it under the tutelage of adult.
2. The painting pen nib and the near area are dangerous high temperature area, the highest temperature can reach 230 degree, do not touch the nib with hands or touch others objects with the nib.
3. Keep at safety place after using to prevent from high falling or children touching.
Lightweight design and easier speed control, perfect for children, designer, artist and hobbyist.
Electric heating nozzle integrated and compact design convenient for maintenance and replacement.
Fast cool technology, safe and accurate. Good plug design for heater and nozzle.
It can be used to draw in the air or on surface as well as tracing objects on paper
LCD screen can display the filament material and temperature
SOAP Fault: (faultcode: aws:Client.RequestThrottled, faultstring: AWS Access Key ID: AKIAIPIWXOVXVHGU4IOA. You are submitting requests too quickly. Please retry your requests at a slower rate.)
SOAP Fault: (faultcode: aws:Client.RequestThrottled, faultstring: AWS Access Key ID: AKIAIPIWXOVXVHGU4IOA. You are submitting requests too quickly. Please retry your requests at a slower rate.)
Additional information
| | |
| --- | --- |
| Color | 12+3 colors filament, Black 3rd Gen, Blue 3rd Gen, Green 3rd Gen, White 3rd Gen |
| Size | 3rd Generation, Filament |